Health Express Pharmacy's 
---
Location:
Various Pharmacy locations & nursing homes
---
Job Requirement:
To provide ongoing maintenance support for  various  pharmacy  locations and nursing homes ensure that the medical equipment is running at peak efficiency and complying with Pharmaceutical Society of Ireland guidelines and standards
---
The Brief:
Provide an ongoing maintenance solution that is compatible with the pharmacies existing strategies in various sites. Our objective was to supply a system which would cover regular refrigeration health checks and provide support for emerging technical issues. This was facilitated by recommending the use of annual maintenance contracts.
---
Interview:
Q: Why did you choose Ace Medical for maintenance of your pharmacy fridges?
Ace Medical supply our company with pharmacy refrigeration and as they have their own maintenance and technical department
they also look after our maintenance requirements.
Q: What type of services does Ace Medical provide to Health Express?
Ace Medical provides maintenance and yearly servicing, as well as sourcing all fridges for Health Express.
Q: How long have you used Ace Medical for your maintenance needs?
Health Express has used Ace Medical for over seven years.
Q: Are you happy with the quality of service and knowledge on pharmacy fridges?
Yes, we are very happy with the quality of service provided by Ace Medical, whatever we need done is promptly seen to.
Q: How has good service/maintenance cover helped Health Express?
The reliability and great cover provided by Ace Medical has meant that we know that any maintenance issues Health Express
experiences will be covered and dealt with promptly by Ace Medical.
Q: Would you recommend Ace Medical for maintenance?
Yes, I would absolutely recommend Ace Medical as a great company to ensure peace of mind when it comes to maintenance of your refrigeration equipment.
Interview between Brian Houlihan of Ace Medical and Ms. Ciara McGuiness of Health Express
We design, plan, build, supply and provide maintenance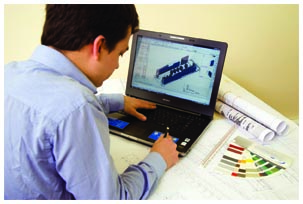 We can help plan your shop interior, design and build to suit your shops specifications.
I would like a free quote for shopfitting and/or servicing and maintainence