McSharry's Pharmacy Group –  Monitoring

---
Location:
Various Pharmacy locations
---
Job Requirement:
To provide an easy way for staff in various pharmacies locations to monitor the temperature and humidity in key areas of their pharmacy, this would allow the pharmacies to comply with Pharmaceutical Society of Ireland Guidelines.
---
The Brief:
Provide a monitoring solution which was easy to use and compatible with the pharmacies existing technologies in various sites. Our objective was to supply a temperature & humidity monitoring system which would enable easy downloading of the relevant readings and had a simple functionality. This was facilitated by recommending the use of the Wi-Fi temperature & Humidity monitoring system for the pharmacy fridge and dispensing area.
---
Q: How did you monitor temperature / humidity before?
We used a system that required us to plug a USB key into our computer every day twice a day to get the readings.
Q: Why did you want to go WiFi?
We find it much easier to use. We need only click on a button on our computer and we get the reading for the whole day, which     we can see in comparison to each of the readings taken. This means we don't have to print the results or manually take readings.
Q: What made you chose our product?
We chose this product because we were interested in the feature which allows us to receive email alerts providing alarm and     status reports (FILESTHRUTHEAIR) out of hours. We have not activated it yet but it is of particular interest because one of our     Pharmacies is closed for the weekend and with this feature we would be alerted if the temperature of a fridge failed and for how     long the temperature had been out of sync.
Q: Where exactly are your sensors placed?
We have multiple sensors but for example in this pharmacy we have one in our Fridge and one in our dispensary.
Q: Do you monitor your sensors using the PC software or on the "FilesThruTheAir" cloud?
At the moment we just use the PC Software but we are very interested in using the "FilesThruTheAir" cloud as it will allow us to     receive alerts and reports by email on phone or PC.
Q:Are you legally required to record temperature data?
Yes
Q: How do you use the information/data recorded?
To comply with statutory requirements and ensure that all medicines held in the fridge and dispensary are kept within the     appropriate temperature range.
Q: Has this device saved you any direct costs?
It ensures that stock loss due to fridge malfunction is kept to a minimum.
Q: Has this device improved the quality of products that you offer customers?
It plays its role by ensuring that our equipment is fully functional.
Q: Are there any other ways that this device has affected your organisation/business?
It has made the mandatory twice daily checks of the fridge temperature much easier than our previous system.
Interview between Brian Houlihan of Ace Medical and Susan McGann O'Brien of McSharry's Pharmacy.
We design, plan, build, supply and provide maintenance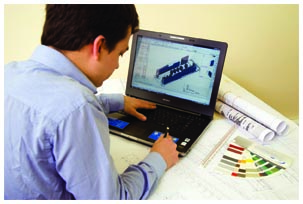 We can help plan your shop interior, design and build to suit your shops specifications.
I would like a free quote for shopfitting and/or servicing and maintainence