St Vincent's University Hospital
---
Job Requirement:
To tender to design, supply and commission 40 high density mobile storage units for in a healthcare environment and compatible with hospital infection & safety control
---
The brief:
To design and manufacture a bespoke mobile storage unit to be used in healthcare setting with an aesthetic and complementary to the area's interior design. All components of the cabinet were to be modular and flexible for the storing of variable sized sterile and non-sterile goods.
---
Shopfitting
Interpreting the design criteria the unit was constructed using grey melamine, interior ABS liner, lockable shutter, slopped top, with smooth flush joints to prevent dust traps. The units were carefully fabricated to the exact design envisaged by our designers and cut to precision using our CNC manufacturing processes. This specialised storage unit involved sourcing key components from 5 different high quality European manufacturers and assembled in our manufacturing workshop to create the finished product.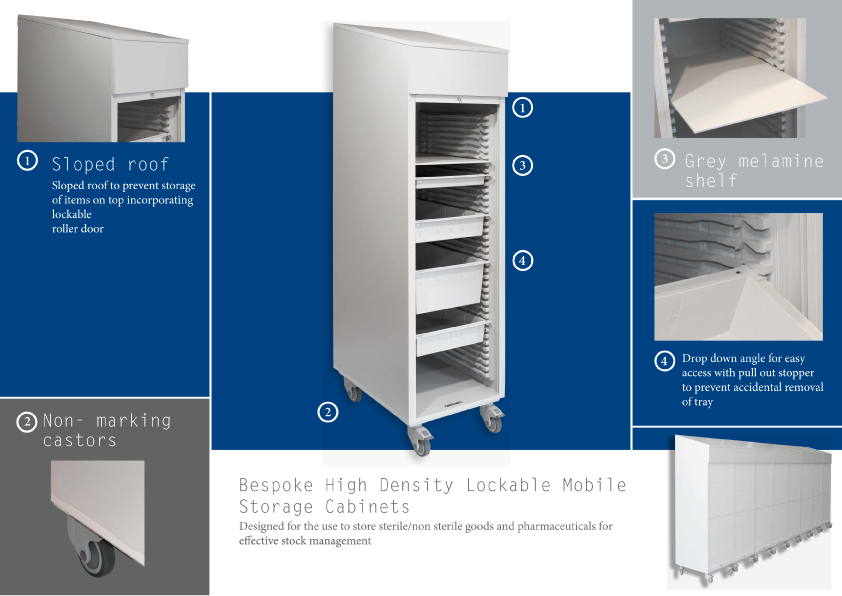 Our mission was to supply a storage unit to the highest standard which we achieved on time and within the agreed budget. This was subsequently increased 12 weeks later by additional orders of bespoke storage units.
1. Slopped roof to prevent placing objects onto of unit and gathering dust
2. Thermoplastic solid grey rubber castors with a total max weight if 400kg. Easy to clean with edges to eliminate dirt/ dust trap
3. 2-way angled plastic liners with drop down angles
4. Easy glide mechanism to prevent accidental removal of tray.
We design, plan, build, supply and provide maintenance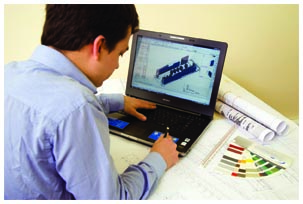 We can help plan your shop interior, design and build to suit your shops specifications.
I would like a free quote for shopfitting and/or servicing and maintainence